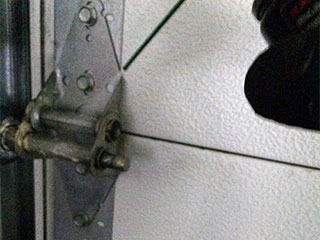 All garage doors require maintenance from time to time in order to work safely and reliably. By providing proper care to your system, you will extend its useful life too. Needless to say, this will help you to save money. One of the main things which you need to do is to lubricate the hardware parts in the places where friction occurs. This may seem like a difficult task, but it's actually not that challenging provided that you know exactly what to do. Let's get started.
Components Requiring Lubrication

The first step of the process involves figuring out which components actually need lubrication maintenance. Starting from the bottom down, the torsion spring has to be lubricated so that the friction between the coils during winding and unwinding is reduced. Their extension counterparts, on the other hand, don't need this kind of care. Steel rollers also need lubrication while the ones with nylon wheels don't. The hinges will benefit from a bit of lubricant while the tracks won't. The opener's hardware should be lubricated too. More specifically, you need to apply the product to the sections where friction occurs between the rail and trolley. If you have a chain or screw drive opener, you need to lubricate the metal chain or screw respectively.

Selecting the Right Lubricant

You may actually need two separate products for the hardware of the door and the opener respectively. You should check what the manufacturers require and recommend in the first place. These should be your main guidance points. Generally, the ideal lubricant must meet three important requirements. It should be light. It's a mistake to use grease as it can actually cause the door to malfunction. The product should not be sticky. Otherwise, it will collect dust, debris and bugs. Thirdly, the lubricant must not harden when the temperature drops.

Proper Application for Top Results

Lubricate the torsion spring by applying a thin layer of the chosen product on all coils. The easiest way to apply lubricant to metal rollers and hinges is to spray the wheels of each roller while the door is closing. When you have to lubricate the opener's drive chain or rod, you need to cover several large sections leaving a few inches between them. To complete the process, you need to run the door for one or two cycles. This will guarantee the perfect spreading of the lubricant.
If you are too busy to take care of regular maintenance don't worry. You can leave it to us, at Garage Door Repair in Stamford.