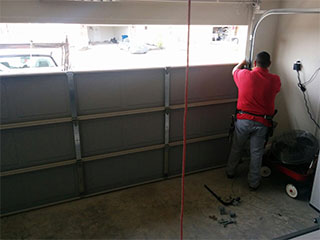 The panels of your garage door are more important than you think
While a few busted up panels from an accident or storm may not seem like a big deal, they can become more than just an aesthetic issue. Not only can damaged panels be a sign of further concerns with other parts of your garage door that ensures it functions properly, but they can actually lead to more stress on your door with continued use. This can mean warping or your door coming completely out of alignment, hindering it from working. We would be happy to repair those bothersome panels for you, and with a wide array of sizes and colors, they will be sure to match and get your door looking like new again.
Is your door in need of repairs?
There are many parts that go into lifting and shutting your garage door, and any of them getting worn over time from use can cause issues like slowing or noise. However, it's also possible that the cause is not anything to do with the door itself. Your garage door opener malfunctioning can also cause these types of problems. If you don't know what to look for, you won't know which component to fix. That's where our professional technicians come in. Whether it's a part of your door that needs repair or replacement, or the opener itself, we'll be able to locate the source of the difficulties and fix it for you. That's what years of experience gives you: assurance that we can get the job done.
In need of repairs now? We've got your back
You're just trying to get to work, but your garage door refuses to even attempt to open. You need repairs fast so you can move along with your busy schedule, so what do you do? Contact the experts! We offer emergency repairs, so you don't have to sweat it. We've all had one of those days. Make it a little less rough for yourself, and let us help you get going again before you know it.
What are you waiting for?
Call Garage Door Repair Stamford today to schedule a good time for you. You shouldn't have to be slowed down by a clunky garage, and we'll make sure you aren't.
We also offer:
Part Replacement & Lubrication
Broken Spring Replacement & Repair
Garage Door Off Track Repair